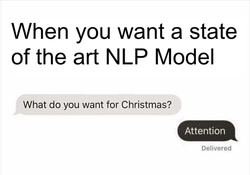 That being said, welcome to the MLC NLP interest group! We're a very welcoming group who meets every Sunday 9 AM PST to discuss NLP papers, discuss ongoing projects, and provide feedback to each other. We're a very diverse group ranging from little to several years of experience in the field so don't hesitate to join regardless of past experience - there'll always be something to learn. We have published a few papers and blog posts in the past - if you're interested in learning more about what we do, consider joining our discord or checking out some of the past presentations and work we've done!
Completed Projects[edit]
| Title | Description | Completion Date |
| --- | --- | --- |
| ICLR Blog Post | Select a previous ICLR paper and write an informal and accessible blog post. Highlight ambiguities, provide better visualization, etc. | 04/10/2022 |
Ongoing Projects[edit]
| Title | Description | Deadline |
| --- | --- | --- |
| ML Reproducibility Challenge 2021 | Select a paper, reproduce the major results, and verify the contribution. | Feb 4th, 2022 |
| NAACL | North American Chapter of the Association for Computational Linguistics | Jan 15th, 2022 |
Previous Reading Groups[edit]
You can find previous paper reading recordings on notion page. Some of the papers we have discussed in the past are:
and many others! Please check out our notion page if you're interested in watching the recordings for past meetings.
If you think you have a paper suggestion which you'd like to present or discuss, come and join us on discord :)